The 2008 winners of the contest, the Third Grade Cabbage Program, were announced in the week of January 9, 2009.
Jenna Meyers, now a fourth-grader at Pine River Elementary in East China in St. Clair County grew a 23-pound cabbage in her backyard. The 9-year-old is to receive a $1,000 scholarship. She beat out nearly 13,210 students at 155 schools in Michigan, USA. VIA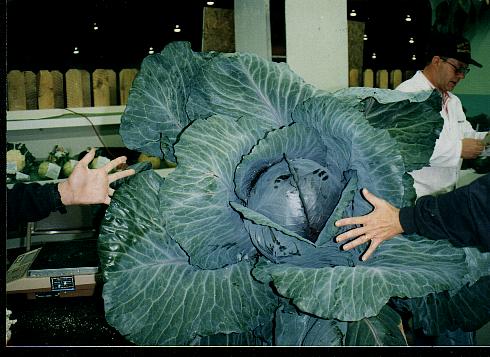 John Evans of Palmer, Alaska grew a world record red cab-
bage weighing over 45 pounds!


Red Cabbage (brassica oleracea capitata rosa) 45.25 lb 1994 world record (Photo: The weigh- in at the Alaska State Fair.) Cabbages require rich soil with a high ph and require high nitrogen fertilizer throughout the growing season, it is important to support the lower leaves for good air flow and to give them plenty of space to grow.

Green Cabbage (brassica oleracea capitata) 76.00 lb 1998. John Evans daughter, Lauren, dwarfed by cabbage won junior division state record for her efforts!
VIA
VIA 2


Heaviest Cabbage - A cabbage grown by Bernard Lavery of Llanharry, Rhondda Cynon Taff, Wales, in 1989, weighed 56.24 kg. (124 lb). VIA

CAN ALASKANS GROW A 125-POUND CABBAGE?


Hakyn Foreman was 3 weeks old and just over 5 pounds. The giant cabbage was around 45 pounds.
View blog reactions