Animal lovers Edgar,79 and Nina Otto,66 Labrador retriever, Lancelot, died of cancer which moved the couple to a cloned copy. On Jan. 27, 2009 a year after the demise Lancelot, their doggie double "Lancelot Encore." arrived. And 
he
 looks
 just 
like 
his 
namesake.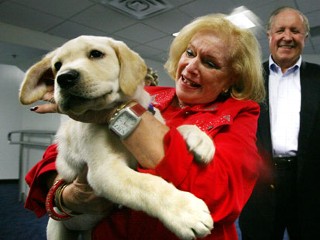 Picture: The 10-week-old golden Labrador retriever is a clone, created in South Korea by a California biotech firm from the DNA of the first Sir Lancelot, the beloved pet of Ed and Nina Otto of Boca Raton. The original "Lancy" died, at age 11, in January 2008. In West Boca, Florida the couple on their 12-acre land, tend to four parrots, 10 cats and six sheep along with their nine other dogs. Edgar look upon Lancelot as an unbelievable, humanlike dog and a true companion. Hence the Ottos had DNA frozen from Lancelot six years ago(cryogenically 
banked 
DNA 
samples). Then, last June — six months after Lance's death — they bidded and won the dog-cloning auction for $155,000 held by the Northern California biotech firm BioArts International. BioArts partnered with Dr. Hwang S Woo-Suk, of the South Korea biotech research firm Sooam, to bring a second Lancelot into the Otto household. Hwang, 
a 
controversial 
figure,
lost 
his
 research 
professorship 
at 
Seoul 
National
 University
 in
 2004
 after 
fraudulently 
claiming
 that
 he
 had
 cloned
 human 
embryos
 and 
stem cells. To
 create 
Lancelot 
Encore, 
Woo-suk 
took 
an
 egg
 from
 what 
Hawthorne
, who ran a BioArts predecessor called Genetic Savings & Clone, called
 an
 indigenous
 Korean
 dog 
resembling
 a 
bloodhound, 
replaced 
the 
egg's 
innards 
with 
the 
late
 Lancelot's 
DNA, 
then
 implanted 
the 
egg 
in
 a
 second
 Korean 
dog.
 Two
 months
 later, 
Lancelot 
Encore 
was 
born,
 at 
1.3
pounds. 
Now
 10
 weeks old a
 hefty, 
boisterous
 17
 pounder,
 he
 lavished 
kisses 
on 
the
 Ottos
 , 
as 
well 
as
 anyone
 else
 who
 came 
within
 licking 
range.



His
 father, 
the 
late 
Edward
 Otto,
cofounded
 both 
NASCAR
 and
 the 
Orange
 Bowl 
where,
 in 
the
 1930s, 
he
 staged
 motorcycle
 races and Edgar himself started a successful medical company.
Ed Otto, NASCAR's Silent Partner' Book Launch Set for Daytona

VIA

The Humane Society of the United States lambastes pet cloning calling the practice "disreputable," the animal-welfare organization insists that "cloning cannot replicate an animal's uniqueness. Cloning can only replicate the pet's genetics, which influence but do not determine his physical attributes or personality." It is unclear whether little Lancy's temperament will resemble his predecessor's. The concept has critics, many of whom question the ethics of spending so much money on custom-designed dogs at a time when U.S. shelters kill an estimated 3 million to 4 million unwanted pets annually. The [Tri-County] Humane Society in Palm Beach County, no-kill shelter's founder and CEO, Jeannette Christos said the Ottos have given her shelter almost twice what their new puppy cost.
View blog reactions