USA-Michelle Duggar has given birth to her 18th child.

The Arkansas supermom delivered the baby girl by Caesarean section Thursday 18 Dec 2008 at Mercy Medical Center in Rogers. The baby, named Jordyn-Grace Makiya Duggar, weighed 7 pounds, 3 ounces and was 20 inches long.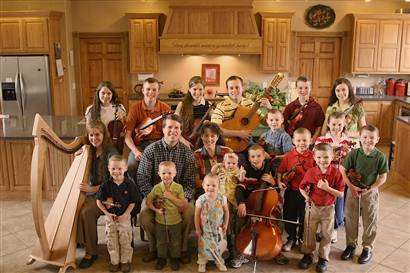 All the family
Arkansas couple Michelle and Jim Bob Duggar are the proud parents of 18 children - including a newborn baby girl.

Michelle Duggar, left, is surrounded by her children and husband Jim Bob, third from right, while she holds her daughter, Jennifer Danielle, Aug. 2, 2007, in Rogers, Ark. Michelle just gave birth to number 18, another girl: Jordyn-Grace Makiya Duggar
The Duggars now have 10 sons and eight daughters. Jim Bob Duggar is 43, a year older than his wife. Their oldest child, Joshua, is 20. With two sets of twins, Michelle, has gone through 15 pregnancies that ended in 13 natural deliveries and two Caesarean sections.

Both Michelle and Jim Bob — a former state legislator who served in the Arkansas House of Representatives — are real estate agents. They claim their family is debt-free, with the entire bunch helping to build their 7,000-square-foot home in Tontitown. And they are enriched by a devout faith in their religion. The Duggars are followers of the evangelical Christian movement called Quiverful, which teaches that children are God's blessing and that husbands and wives should happily welcome every child they are given.








VIA

Related Articles :

Baby Born With 12 Fingers and 12 Toes
Baby born to a dead mother
Black and White Twins
Australian father has child with his daughter
U.S. man claims to be pregnant
Hollywood's Most Influential Infants
Black & white twins - twice!
View blog reactions