Heather Mills, dubbed Lady Mucca & Paul McCartney "Lord Macca" after The Sun exposed her porno past, has hired the same lawyers used by the late Princess.

Heather Mills Gets £24.3m Divorce Payout Video Clip






Wednesday March 19, 2008
In a public summary of the judgement, it was confirmed McCartney had been ordered to pay Ms Mills £16.5m, which in addition to her personal assets of £7.8m sees her leave the marriage with £24.3m.That total is said to include £500,000 that refers to "overspending in the period of separation".The judgement also revealed Ms Mills had sought an award of £125m, while Sir Paul's initial offer was in the region of £15.8m.
The pair, who split in May 2006 after four years together, failed to come to an agreement during a six-day hearing at the High Court in February. (Paul - who has a four-year-old daughter, Beatrice, with Heather) Financial provision for Beatrice consists of a periodical payments order of £35,000 per annum, the husband agreeing to pay for her nanny and her school fees. VIA


It was revealed that Heather Mills fibbed about former British PM Tony Blair offering her a peerage. 25 Mar 2008 VIA


HeatherMills Naked - More Picture here 1 More Picture here 2

Last year, lurid shots were released of Heather in a 1988 German sex book, Die Freuden Der Liebe (The Joys Of Love), which featured naked images of her performing a sexual act on a male porn model. Heather claimed the book was a "sex educational manual". VIA


The Uk tabloids, reports on June 13, 2006 she was a high-class hooker in her early twenties - involved in threesomes with various rich Saudi princes - not to mention being a "publicity seeker," "gold digger" and bad influence on Sir Paul, who was supposedly forced to dye his hair and get plastic surgery.



The Sun in June 2006 printed photos of her in sexually explicit poses with a man, apparently taken for a German sex manual in the late 1980's.




Heather Mills had a six-month affair while dating Sir Paul McCartney, it has been claimed.Film editor Steel, who had allegedly been sleeping with Heather for three years when she met Paul, said: "Heather was insatiable, she demanded sex six times a night."I'd come home to find her waiting naked in bed. She had a hoard of vibrators for when she was home alone. Her favourite was a huge back massager that she plugged into the mains. He said: "Heather has a very unusual erogenous zone - her stump. I used to massage one particular area and it gave her an orgasm."Steel claims their secret romance continued until Heather joined Paul on a romantic Caribbean holiday in 2000. VIA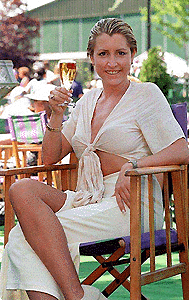 File photo of British model Heather Mills,who lost part of her left leg in a road accident,relaxing with a glass of champagne at Wimbledon.Mills,whose relationship with Sir Paul McCartney wasmade public last month, is to receive £ 200,000 damages
for the 1993 accident involving a London police motor cyclein which she lost a leg.


Mills became the first contestant with a prosthetic limb to participate in the ABC-TV reality dance competition,which pairs celebrities with professional ballroom dancers. The "Dancing" lineup will also include will be world female boxing champion Laila Ali, the daughter of Muhammad Ali, country music star Billy Ray Cyrus, former 'N Sync boy band member Joey Fatone, Olympic speed-skater Apolo Anton Ohno, former basketball star Clyde Drexler, TV-radio host Leeza Gibbons and Vincent Pastore, who appeared on "The Sopranos."The cast for the fourth season of "Dancing," which premieres on March 19, 2007 and was announced on ABC's "Good Morning America" program.


Heather Mills in Dancing with the Stars Video Clip

A new game based on Heather Mill's exploits in the divorce court.
Play the Game NOW -


Heather Mills'bizarre rant: 'Why don't we drink milk from rats and dogs?'on 20.11.07
View blog reactions