廣州火車站高架橋上飛車搶劫 Snatch theft by Chinese motorcyclists. "They should used the pedestrian bridge crossing to avoid being in the road path of the motorcyclist snatch thief."


Those found guilty of such case in Singapore can be jailed , fined or caned or given any two such punishments.

From Aug to mid Nov 2007, there were 50 cases of snatch theft by motorcyclists. Shoppers and pedestrians are thus advised to avoid carrying excessive cash, valuables or jewellery. Be alert to your surroundings, especially when walking along the road. Sling your handbag in front of you or clutch it under your arm, on the side further away from the road to prevent snatch theft from motorcycles. As far as possible, walk on the pavement on the side of the road that is facing oncoming traffic. If you suspect someone is following you, move to the nearest crowded area or call the Police for assistance.
Weird Gadget to repel attackers
A 1GB music player holster and leopard print Taser gun on show at the annual Consumer Electronics Show (CES) in Las Vegas.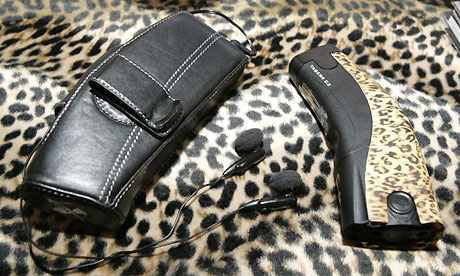 Deborah Kerr in The King And I recommended whistling a happy tune when afraid. Now fearful Americans can sing along to their favourite tracks(The Music Player Holster's mp3 player can hold up to 1GB of music – enough for 150 or so songs ) while shooting anyone who causes them consternation with a 50,000 volt electric charge.The gun generates a staggering 50,000 volts but the actual ampage - which is potentially very dangerous to life - is a mere 0.0021 amps, while a household plug carries 13 amps. The ampage is so low that the Taser's two lithium camera batteries can stun 100,000 people. Used in a digital camera the two batteries would provide just 100 photo flashes. The wires that connect the darts give it a range of up to 15 feet, so you can shock to your heart's content.

Being hit by a stun gun is, however, a deeply unpleasant experience. Last month a 45-year-old company director, who was unarmed and innocent, claimed he had been 'tasered' in north London. The first shock caused him to drop to his knees, a second left him flat on his face with a broken tooth and a further six shocks made him wet himself.



VIDEO: Police chief hit by Taser
A police chief is seen screaming "bloody hell" in a video as he is stung by a Taser electronic stun gun. Richard Brunstrom, chief constable of North Wales, subjected himself to 50,000 volts for a video on his force website. Mr Brunstrom was hit with the Taser gun for 1.5 seconds before telling his officers: "That was long enough, thanks."


The British public is banned from using Tasers but they are legal in 43 states in the US where Taser International has already sold 160,000 to 'concerned' private citizens. It hopes to boost sales by providing the devices in a range of colours - including shocking pink - and thinks its leopard print gun will also be a stunner.
VIA

Songs To Listen To While Tasing Somebody

Click first button where player is available to play song!! Click the same spot to stop.
Electro-Shock Blues – Eels

Danger! High Voltage – Electric Six

Gimme Gimme Shock Treatment – The Ramones
Get The Message – Electronic
Twelve Volt Man – Jimmy Buffett
She's Electric – Oasis
Such Current Of Electricity Shall Continue To Pass – Redrum
Shock Treatment – Pizzicato Five
Electricity – Spiritualized
I'm Fried – The Stooges
Motorcycle Ban A Blessing In Disguise
Motorcycle ban one of many sweeping edicts in China

GUANGZHOU, China - Officials decided that swarms of motorcycles and scooters had become a plague on the streets of this huge city and ban motorcycles as a solution.

City officials blame exhaust-spewing motorcycles for increased pollution and other problems. Motorcycles were involved in about half the city's accidents last year, when crashes left 311 people dead, according to the public security office, and

snatch-and-run gangs of thieves menace pedestrians. Through the first nine months of this year, police tallied 3,432 cases of robbers using motorcycles.




As of Jan. 1, the city's 260,000 or so registered motorcycles will be forced off the roads. Tens of thousands of people who use the vehicles to make deliveries or otherwise earn livings must turn in their motorcycles or take them out of the city.
The city is China's fifth-largest auto market, with 900,000 vehicles jamming its roads. Adding to traffic problems, motorcycle and scooter prices have plunged, causing throngs of residents to eagerly turn to two-wheeled motorized transport. Apart from the 260,000 registered motorcycles, another 100,000 unregistered ones ply the streets, as well as 100,000 or so electric bicycles.

Guangzhou isn't the first city in China to ban or sharply limit motorcycles, scooters and electric bikes. Shanghai and Beijing also do so to some degree. But Guangzhou is taking action after hundreds of thousands of consumers have already bought the vehicles.

VIA

View blog reactions